Regular price
Sale price
$29.99 USD
Unit price
per
Sale
Sold out
Free Shipping

Free Returns

Made in USA
Ease Installation
The dead blow hammer and wooden blocks help ensure a fast and easy installation.
Ready To Use
The install kit arrives ready to be removed from the package and used.
View full details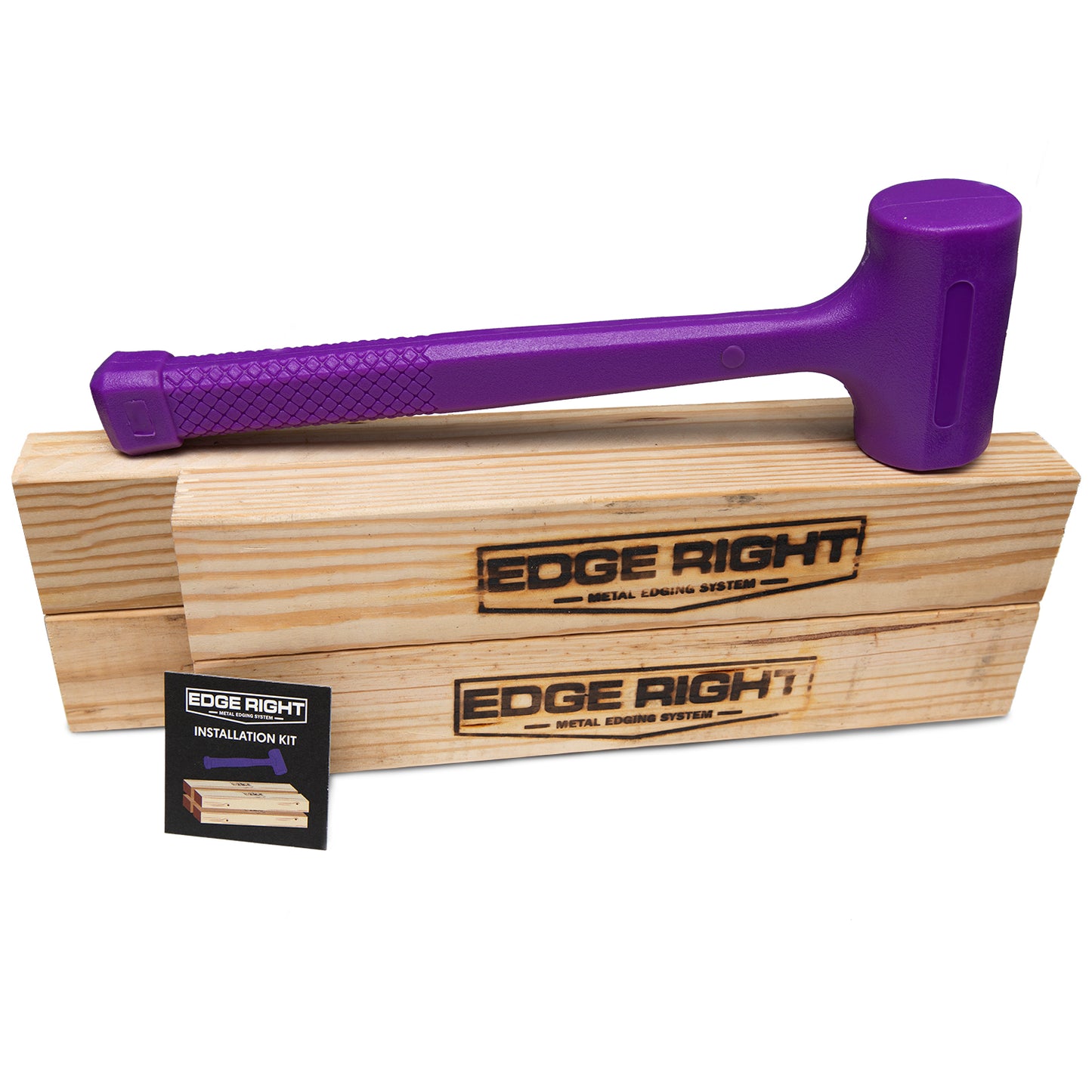 The Edge Right Installation Kit has all the tools you need to get the job done. There's no need to go to the home improvement store to purchase wood and cut it yourself. Our installation kit comes ready to use, right out of the box. This kit comes with a 2-pound dead blow hammer and (4) wood blocks to complete your installation.
Dead Blow Hammer
The hammer's polyurethane construction reduces rebound while absorbing the initial shock. The diamond tread pattern surrounding the handle provides a comfortable non-slip grip.
Thanks to the steel shot that fills the Edge Right dead blow Hammer, there is minimal rebound when hitting an object. Steel shot is made up of small pieces of spherical grains, resembling that of a bb pellet. The steel shot spreads the force over time, rather than delivering the entire force of impact like an ordinary solid hammer would do. The steel shot transfers energy well and takes out the vibrations, reducing the bounce back. The hammer weighs in at a very usable 2 pounds.
Bump Blocks
Our Edge Right wood blocks are perfectly sized for an ergonomic grip. The blocks neutralize potential damage from hammer strikes. Our blocks are made from pine measure  13 ½" x 2 ½" x 1 ½" featuring the Edge Right Logo branded into the wood.
Usage Tips
When placing the Edge Right Block onto your Cor-Ten steel, make sure to place the wood perpendicular (in a T shape) to the edging. After hammering an area, you may notice that the block is becoming more damaged. You can move the block as needed to maximize the usefulness. If the block is placed parallel to the block (with the wood grain) it is more susceptible to splitting.

For more information on how to install Edge Right, please see our
Written Instructions
and or
Video Instructions